Radu Corcodel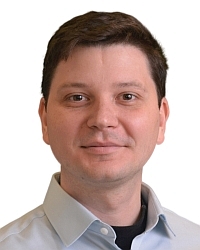 Position:

Research / Technical Staff

Research Scientist

Education:

Ph.D., University of Connecticut, 2017

Research Areas:

External Links:
Radu's PhD focused on workspace analysis and motion synthesis for arbitrary kinematic chains, with particular emphasis on robotic 3D printing and Fusion Deposition Modeling. Between 2007-2011, Radu worked for Siemens VDO (currently Continental, AG) as a Design Architect, where he contributed to the development and production of high-power DC/DC inverters for hybrid vehicles and digital tachographs for commercial vehicles. Currently his research focuses on motion planning and workspace analysis for over-actuated kinematic linkages and collaborative robots.