Siddarth Jain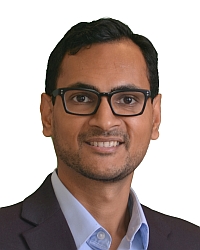 Position:

Research / Technical Staff

Research Scientist

Education:

Ph.D., Northwestern University, 2019

Research Areas:

External Links:
Siddarth's research lies at the intersection of robotics, computer vision, and machine learning. His doctoral thesis investigated mathematical models for probabilistic human intent recognition, shared autonomy for assistive human-robot systems, and perception algorithms involving point cloud processing with geometric methods and machine learning. Prior to joining MERL in 2019, he was affiliated with the Shirley Ryan Abilitylab, Chicago (nation's top ranked physical medicine and rehabilitation research hospital) where his research lead to developments in the assistive robotics domain, involving user studies and interactive robotic systems that integrate perception, machine learning, planning, and control to act with people in practical applications. Currently, Siddarth's research focuses on the core challenges in active perception, robotic manipulation, autonomy, and human-robot interaction.

Date: July 13, 2021
Where: Robotics: Science and Systems
MERL Contacts: Siddarth Jain; Devesh K. Jha; Diego Romeres
Research Areas: Artificial Intelligence, Machine Learning, Robotics


Brief

MERL researchers Diego Romeres, Devesh Jha, and Siddarth Jain together with research groups at MIT, NVIDIA, NIST, TUM, Google DeepMind, ETH Zurich, Google AI, and UMASS Lowell organized a workshop at the Robotics: Science and Systems 2021 conference. The workshop was on "Advancing Artificial Intelligence and Manipulation for Robotics: Understanding Gaps, Industry and Academic Perspectives, and Community Building". The workshop had a list of excellent speakers both from academia and industry. Recording of the talks and of the panel discussion can be found in the link below.

Date: October 13, 2020
MERL Contact: Siddarth Jain
Research Areas: Artificial Intelligence, Computer Vision, Machine Learning, Robotics


Brief

Computer vision and robotics researcher, Siddarth Jain, has been appointed to the editorial board of the IEEE Robotics and Automation Letters (RA-L) as an Associate Editor. Siddarth joined MERL in September 2019 after obtaining his Ph.D. in robotics from Northwestern University, where he developed novel robotics systems to help people with motor-impairments in performing activities of daily living tasks.

RA-L publishes peer-reviewed articles in areas of robotics and automation. RA-L also provides a unique feature to the authors with the opportunity to publish a paper in a peer-reviewed journal and present the same paper at the annual flagship robotics conferences of IEEE RAS, including ICRA, IROS, and CASE.