Anoop Cherian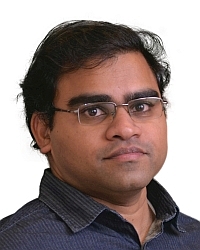 Position:

Research / Technical Staff

Principal Research Scientist

Education:

Ph.D., University of Minnesota, 2013

Research Areas:

External Links:
Anoop was a postdoctoral researcher in the LEAR group at Inria from 2012-2015 where his research was on the estimation and tracking of human poses in videos. From 2015-2017, he was a Research Fellow at the Australian National University, where he worked on the problem of recognizing human activities in video sequences. Anoop is the recipient of the Best Student Paper award at the Intl. Conference on Image Processing in 2012. Currently, his research focus is on modeling the semantics of video data.

Date: May 12, 2019 - May 17, 2019
Where: Brighton, UK
MERL Contacts: Petros Boufounos; Anoop Cherian; Chiori Hori; Takaaki Hori; Toshiaki Koike-Akino; Jonathan Le Roux; Dehong Liu; Hassan Mansour; Tim Marks; Niko Moritz; Philip Orlik; Anthony Vetro; Pu (Perry) Wang; Gordon Wichern
Research Areas: Computational Sensing, Computer Vision, Machine Learning, Signal Processing, Speech & Audio


Brief

MERL researchers will be presenting 16 papers at the IEEE International Conference on Acoustics, Speech & Signal Processing (ICASSP), which is being held in Brighton, UK from May 12-17, 2019. Topics to be presented include recent advances in speech recognition, audio processing, scene understanding, computational sensing, and parameter estimation. MERL is also a sponsor of the conference and will be participating in the student career luncheon; please join us at the lunch to learn about our internship program and career opportunities.

ICASSP is the flagship conference of the IEEE Signal Processing Society, and the world's largest and most comprehensive technical conference focused on the research advances and latest technological development in signal and information processing. The event attracts more than 2000 participants each year.