Chiori Hori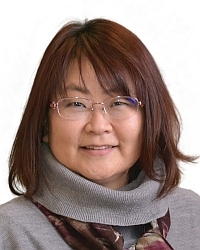 Phone: 617-621-7568
Email:
Position:

Research / Technical Staff

Visiting Research Scientist

Education:

Ph.D., Tokyo Institute of Technology, 2002

Research Areas:

External Links:
Prior to joining MERL in 2015, Chiori spent 8 years at Japan's National Institute of Information and Communication Technology (NICT). Prior to that, she researched at Carnegie Mellon and the NTT Communication Science Laboratories. She was the research manager of Spoken Language Communication Laboratory of NICT from 2012. Chiori's work has focused on speech summarization/translation, spoken dialog technologies, and standardization of communication protocols for speech interfaces at ITU-T and ASTAP. She has been an editorial board of "Computer Speech and Language" since 2016.

Date & Time: Wednesday, February 1, 2017; 12:00-13:00
Speaker: Dr. Heiga ZEN, Google
MERL Host: Chiori Hori
Research Areas: Multimedia, Speech & Audio


Brief

Recent progress in generative modeling has improved the naturalness of synthesized speech significantly. In this talk I will summarize these generative model-based approaches for speech synthesis such as WaveNet, a deep generative model of raw audio waveforms. We show that WaveNets are able to generate speech which mimics any human voice and which sounds more natural than the best existing Text-to-Speech systems.
See https://deepmind.com/blog/wavenet-generative-model-raw-audio/ for further details.

Date: March 20, 2016 - March 25, 2016
Where: Shanghai, China
MERL Contacts: Petros T. Boufounos; John R. Hershey; Chiori Hori; Takaaki Hori; Ulugbek Kamilov; Kyeong Jin (K.J.) Kim; Jonathan Le Roux; Dehong Liu; Hassan Mansour; Philip V. Orlik; Milutin Pajovic; Dong Tian; Anthony Vetro; Shinji Watanabe
Research Areas: Electronics & Communications, Multimedia, Computational Sensing, Digital Video, Speech & Audio, Wireless Communications & Signal Processing, Signal Processing, Wireless Communications


Brief

MERL researchers have presented 12 papers at the recent IEEE International Conference on Acoustics, Speech & Signal Processing (ICASSP), which was held in Shanghai, China from March 20-25, 2016. ICASSP is the flagship conference of the IEEE Signal Processing Society, and the world's largest and most comprehensive technical conference focused on the research advances and latest technological development in signal and information processing, with more than 1200 papers presented and over 2000 participants.