Ankush Chakrabarty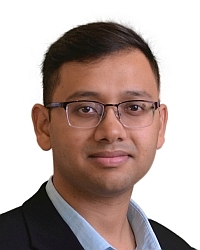 Position:

Research / Technical Staff

Visiting Research Scientist

Education:

Ph.D., Purdue University, 2016

External Links:
Ankush works at the confluence of machine learning and automatic control. At Purdue, his doctoral research focused on developing scalable, data-driven methods for simplifying computationally intensive operations encountered in controlling and observing complex, nonlinear systems. Prior to joining MERL, Ankush was a postdoctoral Fellow at Harvard where he designed embedded model predictive controllers and deep learning-assisted control strategies for treating people with type 1 diabetes.

Date: June 26, 2018 - June 29, 2018
Where: ACC2018 Milwakee
MERL Contacts: Heejin Ahn; Ankush Chakrabarty; Stefano Di Cairano; Uroš Kalabić; Rien Quirynen; Yebin Wang; Avishai Weiss
Research Areas: Control, Dynamical Systems


Brief

At the American Control Conference June 26-29, http://acc2018.a2c2.org/, MERL members will give 10 papers on subjects including model predictive control, embedded optimization, urban path planning, motor control, estimation, and calibration.