Chungwei Lin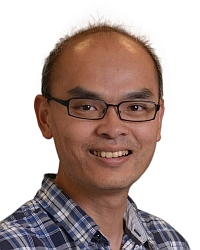 Position:

Research / Technical Staff

Research Scientist

Education:

Ph.D., Columbia University, 2008

Research Areas:
Before joining MERL as a visiting member research staff, Chungwei was a postdoctoral researcher in the Physics Department of the University of Texas at Austin. He has worked on transition metal oxides including manganites and titanates. His particular interest is the use of doping/interface to control optical, thermal, and transport properties. In addition to oxides, he has worked on the theory of self-assembly, configuration interaction quantum impurity solvers, and the theory of photoemission spectroscopy.