Avishai Weiss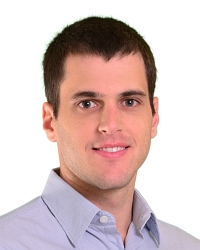 Position:

Research / Technical Staff

Research Scientist

Education:

Ph.D., University of Michigan, 2013

Research Areas:

External Links:
Avishai's doctoral research was on spacecraft orbital and attitude control. Prior to the University of Michigan, he studied at Stanford University, where he received a B.S. in Electrical Engineering and an M.S. in Aeronautics and Astronautics. Avishai's interests are in constrained control, model predictive control, and time-varying systems.

Date: July 6, 2016 - July 8, 2016
Where: American Control Conference (ACC)
MERL Contacts: Mouhacine Benosman; Scott A. Bortoff; Petros T. Boufounos; Daniel J. Burns; Claus Danielson; Stefano Di Cairano; Amir-massoud Farahmand; Abraham M. Goldsmith; Piyush Grover; Uros V. Kalabic; Andrew Knyazev; Christopher R. Laughman; Daniel N. Nikovski; Arvind U. Raghunathan; Yebin Wang; Avishai Weiss
Research Areas: Multimedia, Data Analytics, Mechatronics, Business Innovation, Advanced Control Systems, Dynamical Systems, Machine Learning, Predictive Modeling


Brief

The premier American Control Conference (ACC) takes place in Boston July 6-8. This year MERL researchers will present a record 20 papers(!) at ACC, with several contributions, especially in autonomous vehicle path planning and in Model Predictive Control (MPC) theory and applications, including manufacturing machines, electric motors, satellite station keeping, and HVAC. Other important themes developed in MERL's presentations concern adaptation, learning, and optimization in control systems.

Date: July 3, 2015
MERL Contacts: Daniel N. Nikovski; Yebin Wang; Uros V. Kalabic; Stefano Di Cairano; Arvind U. Raghunathan; Avishai Weiss; Daniel J. Burns
Research Areas: Mechatronics, Data Analytics


Brief

MERL researchers presented 10 papers at the American Controls Conference, in Chicago, USA. The ACC is one of the most important conferences on control systems in the world. Topics ranged from theoretical, including new algorithms for Model Predictive Control and Co-Design, to applications including spacecraft control and HVAC systems.